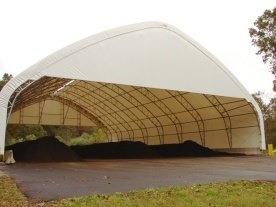 No Fall 2022 UConn Compost Sale - See you in the spring!
Pick-up dates: TBD
Rain date(s): TBD - Same time frames as the previous week.
Customers must purchase a minimum of ½ yard and maximum of 4 yards.
Pick-up Location: UConn Compost Facility, 1396 Stafford Rd., Storrs, CT 06269.
Please follow the signs.
IMPORTANT RULES:
- Please bring proof of payment (A picture of your payment receipt or the actual printed receipt.) Those who have not prepaid online will be turned away.
- No boxes, pails, buckets or bags. Compost will NOT be loaded by hand (shovel) by customers or UConn Staff.
- Trucks and trailers only. Compost will be loaded by a UConn tractor.
Please contact Mary Kegler at 860-486-8567 with any questions.