UConn Creamery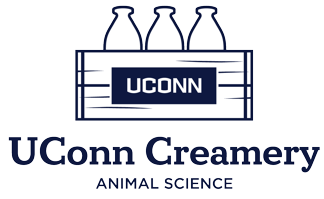 The UConn Department of Animal Science Creamery is located in the George White Building.
All of the ice cream sold in the UConn Dairy Bar is produced in the Creamery with fresh milk from UConn's Kellogg Dairy Center. The Creamery is used for Dairy Foods research, outreach, and teaching activities. Dr. Dennis D'Amico, Associate Professor of Dairy Foods, utilizes the space to conduct research into food safety, assist with cheese making, and conduct student labs. Twenty-four regular flavors, two seasonal flavors, and the occasional limited edition flavors are produced in this facility. The Creamery's ice cream has won awards year after year. In addition to ice cream, the UConn Creamery produces a number of cheese varieties.
Please email dairybar@uconn.edu to check on the availability of a flavor before you visit. For questions about ice cream production, contact Bill Sciturro, Creamery Manager, at 860-486-0569.
See a virtual session about the UConn Creamery hosted by UConn Alumni - "The Evolution of UConn's Creamery -From Ice Cream to Award-Winning Artisanal Cheeses"

Creamery News